Quantified Self Intro
The Quantified Self movement rocket ship has taken off with no signs of slowing down in the immediate future. The Quantified Self movement refers to the act of self-monitoring one's diet, weight, fitness activities, or health status through technology such as mobile apps or wearable devices. Self-tracking can be traced back to the 1970s. The phrase, "Quantified Self," was only recently coined in 2007 by Wired Magazine editors Gary Wolf and Kevin Kelly in 2007 to describe this growing movement.
According to IMS Research, the wearable device market was $2 billion in 2011 and is expected to triple to $6 billion (by conservative estimates) by 2016. In 2011, 14 million wearable devices were sold. In 2016, expect this number to reach 171 million. A few months ago, Susannah Fox, Pew Internet & American Life Project's associate director (digital strategy), presented data from a national study on self-tracking. According to this study, 60% of US adults track their diet, exercise, or weight. 33% track their blood pressure or glucose levels, and 21% use technology to do their tracking. The first Pew statistics is not surprising since physicians urge chronic disease patients such as diabetics to track their blood glucose levels, diet, and activity levels. However, the disparity between this 60% self-tracking statistic and 21% using technology (e.g. Quantified Self) to do so means that there is room for more growth of wearable devices and mobile apps. As IMS' research suggests, we expect to see growth in wearable devices (and the Quantified Self movement) close this gap.
According to a 2011 CDC report, 80% of seniors have one chronic disease. Health tech innovators are thrilled to hear that seniors are increasingly adopting technology such as social media, and they are hoping that more seniors will use technology to manage their chronic diseases in the near future.
Quantified Self Technology Examples
Mobile Apps
MapMyRun – #1 running app, GPS-enabled tracking for runners. Users can track times, share paths with other users, and share their results through social media.
Glooko – FDA 510(k) cleared class 2 medical device that is compatible with 17 blood glucose monitors at this time. Users must download the application and purchase the Glooko cable.
Lose It! – The most popular weight loss food log app on the iTunes store (also available on Android). Users set goals, receive motivation from other users, and track dietary intake. It is compatible with other devices such as the Aria wireless scale.
Wearable Devices
FitBit Flex – One of the three FitBit trackers available, Flex offers a sleekly designed wearable activity and sleep tracker. It also has an built in alarm clock that can wake you with a gentle vibration.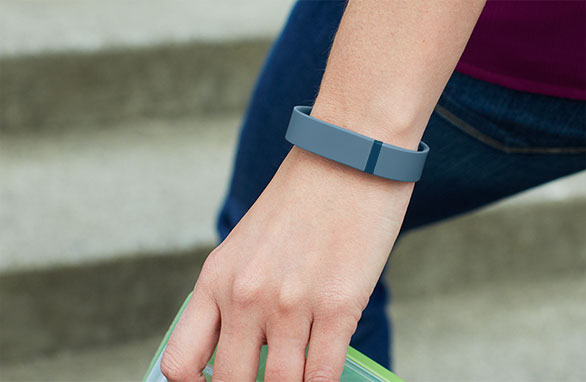 Misfit Shine – A wearable activity the size of a quarter that differs from other trackers in its hardware design. It is the size of a quarter that runs on a coin cell battery (no need to constantly recharge it). It can be worn with a wristband accessory or clipped to one's pants or shoes.
Other Devices
FitBit Aria Wireless Scale – As the name suggests, a wireless scale that records your weight, BMI, and body fat percentage. Users can easily view their weight loss progress over time (data uploads automatically). Works with other FitBit devices and the FitBit application incorporates gamification elements (e.g. points and achievement badges).
Vitality-GlowCaps – An innovative solution to the medication adherence problem (which costs the US billions of dollars in direct and indirect costs). Vitality-GlowCaps are "smart" wireless pill bottles that record medication usage and provides reminders through a glowing effect, sound, and/or phone call. The data is collected and adherence can be visualized by patient and provider.
Future of Quantified Self
Today, we have a plethora of neat gadgets and apps. What we have yet to see in the Quantified Self movement is: full provider adoption, payer reimbursement, clinical trials, and updated FDA mobile app guidance. Ideally, the Quantified Self movement will evolve to extend and optimize the provider-patient experience beyond the office visit. Current medical students aren't trained to make sense of all this data, and medical curriculum must be adjust to the needs of today's patient. A seamless integration between existing EMR systems and apps or devices through standardized data structure is necessary for physician's to easily access and track this data all in one platform. At Health 2.0 Dallas, Corepoint Health's CTO, Dave Shaver asserted that, "Mobile and application developers chronically make the mistake of devoting only 15-20% of their energy and resources on the integration component, when in reality, that model should be flipped, so 80-85% of initial focus is on establishing a real-world, HL7-based data architecture.
Out of all the wearable activity trackers out there, I only know of one 510(k) FDA-approved (Class 2 Medical Device). That wearable device is BodyMedia which is backed by publications and abstracts. How the FDA will regulate mobile apps and wearable devices is not entirely clear yet. Wearable device makers and mobile app makers must be very careful claims they make about their devices. Warning letters have already gone out to mobile app makers make claims about their product (uChek Urine analyzer received a warning letter from the FDA stating that it would have to go through the medical device approval process). The FDA has yet to release their promised guidance on mobile apps, which many are hoping to elucidate the matter. In the foreseeable future, we will likely see health insurance coverage and prescriptions of mobile health apps and wearable devices. WellDoc recently launched, BlueStar, which is the first mobile health app that will be adjudicated as a pharmacy benefit by select employers. BlueStar is a diabetes management and coaching program that can be accessed through a computer or mobile phone. BlueStar requires a prescription and is indicated for type 2 diabetics greater than 21 years old.
As a health technology enthusiast, I am excited about the future of the Quantified Self movement. I believe that through self-tracking technology, we will see more engaged patients who are consciously improving their health status. If this data can seamlessly integrate with EMRs, physicians can begin using this information to appropriately track and treat their patients.
Latest posts by ThinkPatient (see all)